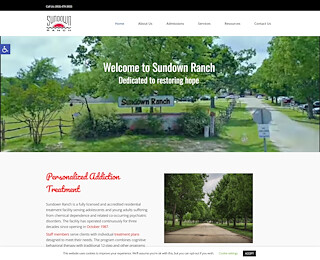 We invite you to our ranch treatment center to begin a new chapter in your life! Sundown Ranch is a place of healing and recovery, where you will rewrite your future and leave all your problems behind you.
Begin the rehab today!
When dealing with any form of substance addiction, time is not your ally. The disease will progress fast, and it will take over before you have the chance to prevent it. Most victims don't even realize the dangers lurking behind every drug dose or every drink. If you abuse drugs regularly, you are already one step away from full-blown addiction.
To prevent the worst-case scenario, we advise you to begin the treatment as early as possible. You can talk to our experts about the dangers of addiction, and come in for a screening, even if your condition is not critical. We will assess your clinical and health status, and recommend the ideal treatment on the spot.
How does the rehab treatment work?
Our rehab-and-recovery strategy divides into four major components:
Physical healing and recovery – The priority is to help your body recover, since it may struggle with malnourishment, toxin accumulation, and the natural side-effects of the drugs. For that, we offer nursing and medical services, nutritional support, fitness programs, and the assistance of a physician, whenever necessary.
Mental and emotional recovery – This section embodies the core of our rehab treatment here, at our ranch treatment center. To assist your mental and emotional recovery, we offer a variety of therapies, including trauma healing, experiential therapy, group counseling, individual support, etc.
Spiritual growth – Faith can be a powerful tool in regaining your identity and spiritual composure. Our faith-based programs allow you to connect with other people, discover your purpose in life, and work on improving yourself and your relationship with others.
Relapse prevention and vocational counseling – The foundation of our rehab program relies on relapse prevention more than anything else. Our counselors and vocational experts will help you work towards a career and set life goals that will define your path in life from that point forward.
Is the rehab treatment effective?
Over three decades of expertise in the business have taught us that the rehab treatment is the only practical way of dealing with all forms of addiction. Although, as a chronic disease, addiction has no cure, there are ways to manage it and avoid the relapse for good. To achieve that, you must join the rehab as soon as you can.
Because of the nature of the disease, you won't be able to control it on your own. It will break you every time you attempt to quit cold turkey. By coming to our ranch treatment center, you will enter a life transformation project that will allow you to achieve your freedom.
We urge you to make the best decisions for you and your family! Come to Sundown Ranch, talk to our experts, and start the rehab today! So long as you remain confident, positive, and hopeful, nothing is beyond your reach.
Sundownranchinc.com
9034793933
3120 Co Rd 4413 2318, Canton, TX 75103
View Larger Map