Can I Afford Addiction Treatment?
Deciding to seek treatment for a substance use disorder and take control of your life is an important first step to recovery. But don't let fear or worry about treatment affordability stand in the way of your sobriety. Customized programs, help from insurance companies, and even grants and scholarships can make it easier to afford addiction treatment and access the help you need.
Which Addiction Treatment Programs Are Most Affordable?
The cost of treatment rises in direct correlation with a few various factors. Some of these factors include the length of time spent in the program, whether it's an inpatient or outpatient treatment plan, the facility's location, and the types of amenities offered.
For example, if you choose an inpatient program that includes the cost of room and board and 24-hour services, you'll pay substantially more than if you select an outpatient program that offers services only during specific hours of the day. Also, whether you decide on an inpatient or outpatient program, you'll have a higher bill the longer you stay in treatment.
And while we'll discuss insurance options in more depth just ahead, it's important to note that some states may be less generous when it comes to covering the costs of rehab services. Additionally, insurance companies may not cover specific types of therapies.
Levels of Care for Addiction Treatment
Here are some common types of addiction treatment options ranked according to total costs (lowest to highest):
Detoxification
Detoxification rids an individual of physical addiction to the substance and helps to manage withdrawal symptoms. Even after a patient is stabilized physically, they will likely need counseling. Seeing a counselor will help get to the root cause of the substance use disorder to achieve long-term recovery. So, although detox on its own is an affordable option, it's usually not effective by itself. Continuing treatment is strongly encouraged to achieve lasting recovery.
Traditional Outpatient Services
For patients who need to have a flexible schedule (they must continue to work, go to school, or care for their family during most hours of the day). Outpatient treatment is an affordable option since housing is not included.
Intensive Outpatient Treatment
As the name "intensive" suggests, an IOP program includes more services and a more significant time commitment. Both traditional outpatient treatment and IOP are designed to help individuals learn the skills they need to survive once they complete the program. Often, traditional outpatient and IOP are considered the next step after completing an inpatient program.
Inpatient or Residential Program
Inpatient treatment is the most costly since it incorporates room and board and 24/7 services into the total cost. Some facilities include detox as part of their inpatient program, which will increase the cost burden.
Insurance May Help You Afford Addiction Treatment
The U.S. government's health plan (ACA) has mandated coverage for drug and alcohol addiction. You may be able to cover some of your costs through health insurance financed by your state, through Medicare or Medicaid, and many private insurance companies. In some states, you may even qualify for disability insurance.
Be sure to read the fine print on your policy. This way you'll know which types of therapies are covered and how many days of coverage you're eligible for. However, the best way to determine if your insurance covers treatment is to contact an admissions counselor to have them verify your insurance coverage for addiction treatment.
Grants, Scholarships, and Sliding Scales
If you're unable to get insurance coverage, research other options within your local or state government. There may be faith-based support groups or other organizations that will offer low-cost or even free addiction assistance. A couple of these kinds of grants include the U.S Department of Health and Human Services' SAMHSA agency. These provide treatment vouchers and a block grant program that makes programs available in all 50 states.
Even some facilities offer "scholarships" to patients who otherwise wouldn't be able to afford an addiction treatment program. The programs may be funded by an outside organization or foundation, through community fundraising, or the facility itself.
Some facilities may allow patients to pay on a sliding scale based on income. And still, others allow clients and families to arrange payment options that permit patients to pay in installments. Some programs require payment up front – do not let this dissuade you from seeking help from their treatment. Oftentimes, when something is paid for up front, this helps to convince the person to continue treatment, even when it gets tough.
Outpatient Treatment in Scottsdale, AZ
Desert Cove Recovery in beautiful Scottsdale, Arizona, offers effective outpatient programs. We aim to teach those recovering from substance use disorders how to maintain their sobriety and prevent relapse. Our programs are designed to be flexible to accommodate your scheduling needs. You will find that our services are much more affordable than residential inpatient treatment. Whether you need traditional outpatient services or an intensive outpatient program, Desert Cove Recovery can customize the services that are best suited to your specific needs. We also accept most insurance, and you can check to see if your insurance company offers addiction treatment coverage here.
If you'd like to learn more about our programs or discuss payment options, please contact one of our caring and supportive staff members. We're ready to help, and we look forward to teaching you the skills you need to lead a sober life.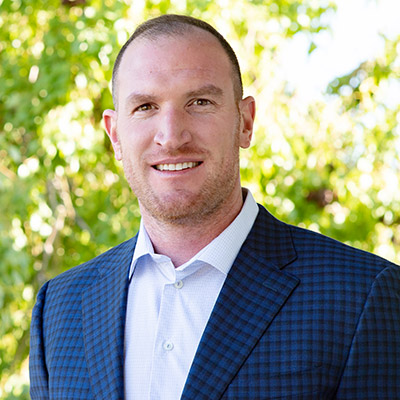 Blake Nichols is the Director of Operations at Desert Cove Recovery. Blake battled his own addiction to drugs and alcohol and was given the gift of recovery at the age of 23. Since 2008, Blake has dedicated his life and career to the field of addiction. He has experience in all aspects of addiction treatment including direct care, admissions, marketing, and administration.
Blake feels that the greatest reward of working in the recovery field is being part of the transformation that a person goes through from the time they arrive and begin treatment, through the hard work and the Miracle of recovery, and ultimately the change into a confident and capable person ready to carry the message of recovery.
"My career has focused on serving others. I have accepted ownership of my responsibilities as that is the key to working at the highest level of professionalism. I have worked to be positive and offer solution-based suggestions in my work and personal life."