Countless people struggle with substance abuse issues and substance use disorder. If you or someone you know is struggling, an outpatient treatment program may be the best choice to balance your recovery with your day-to-day responsibilities.
Discover the benefits of an outpatient treatment program for drug and alcohol addiction.
What Is Outpatient Addiction Treatment?
Outpatient treatment offers treatment for a drug or alcohol addiction during the day without being confined to a hospital or residential facility like inpatient treatment. Depending on the facility, it may occur in a mental health clinic, counselor's office, hospital clinic, or another facility.
While there are different attendance levels, including intensive outpatient treatment for people who need more care, the goal is to treat drug or alcohol addiction without disrupting your life. During the day, you attend treatment sessions according to your individualized care plan, such as group therapy or counseling to address the underlying causes of addiction.
What Is Intensive Outpatient Treatment?
IOP is considered a "step down" treatment after a detox or residential treatment program. It's less intensive than hospitalization and doesn't involve 24/7 care, but it's ideal for people who need more hands-on care and supervision.
With IOP, you can learn the skills of sobriety and apply them to real-world scenarios. Like outpatient, it typically includes a tailored treatment program with therapies like individual therapy, group therapy, family counseling, and peer support groups.
Benefits of Outpatient Treatment Programs
From affordability to flexibility to independence, outpatient treatment offers numerous benefits, including:
Balancing Day-to-Day Responsibilities with Drug and Alcohol Rehab
Outpatient treatment offers more flexibility than detox or an inpatient program. Most sessions take place during the day or during off hours, so you can complete your treatment and return home in the evening to sleep in your own bed.
Addiction treatment is often protected by the Family and Medical Leave Act (FMLA), so you can't get fired for seeking addiction treatment. Still, there are many reasons you may not want to leave work. For some, it's a financial issue if the time is unpaid. For others, it could be a significant setback on a career path.
Suppose you've thought that it was "not the time" for recovery. In that case, outpatient treatment takes care of that problem by giving you a more manageable schedule to manage your obligations without putting your addiction treatment on hold.
Privacy with Treatment
Though addiction is a common problem, some people feel shame over their addiction and seeking treatment. With an inpatient program, explaining absences and maintaining privacy is much more challenging, but outpatient treatment takes place in a one-on-one setting with a flexible schedule.
With outpatient treatment, you may work with a trained psychiatrist, a clinical psychologist, an experienced therapist, a licensed social worker, or another qualified professional. Everything is confidential and private, so you can focus on your treatment without worrying about feeling self-conscious about others knowing.
Tailored Treatment
Inpatient rehab often occurs in a group setting, so you may not feel that you're getting individualized care and attention to set yourself on the path to recovery. Outpatient treatment tailors therapies and treatment sessions to your individual history, conditions, and goals.
With outpatient treatment, you have the space to determine what works for you and develop more open and honest communication with your care team.
Independence
Outpatient treatment entrusts you to be accountable for your own recovery and commit to your treatment. You'll have more trust and independence to work on your therapy, personal relationships, and stress management skills – with the guidance of trained professionals – and discover your own path to abstinence.
However, that's not to say that you're without rules and structure. With outpatient treatment, people are expected to adhere to rules like showing up for therapy sessions, respecting staff and other clients, and staying sober. These rules protect the other people in the facility and teach you responsibility.
Affordability
Another benefit of outpatient treatment is that it's often more affordable than inpatient treatment. Naturally, the expenses are higher when you're in a 24/7 facility. With outpatient treatment, you will only attend treatment sessions at set times.
Insurance may also cover more of an outpatient program. But it depends on the specifics of your treatment plans and your insurance provider.
How Long Is Outpatient Treatment?
IOP and some outpatient treatment programs can range from three to seven days per week, with treatment sessions for several hours per day. The minimum required hours for IOP is nine hours per week.
Outpatient treatment consists of one or two sessions each week, but it could last up to a year. The goal of outpatient treatment is to have fewer sessions focusing on long-term therapy and recovery. For people who don't require intensive care, the length of outpatient treatment can be helpful for building skills to adapt to a life of abstinence as challenges come up in day-to-day life.
Ultimately, the schedule for your outpatient care will depend on various factors. This includes the types of substances used, the history and severity of addiction, any co-occurring mental, medical, or behavioral conditions, and other considerations.
Is Outpatient Treatment Right for You?
If you or a loved one are struggling with drug or alcohol addiction, outpatient treatment is an option that can help you get on the path to recovery while balancing the responsibilities in your daily life. Contact us today to discuss your treatment options and learn more about outpatient treatment.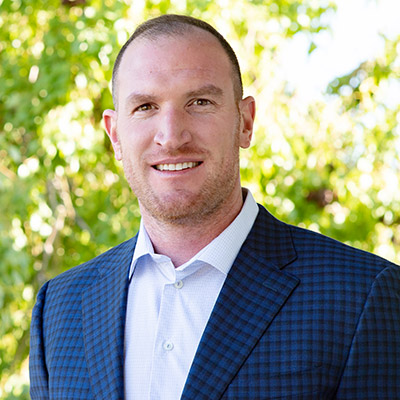 Blake Nichols is the Director of Operations at Desert Cove Recovery. Blake battled his own addiction to drugs and alcohol and was given the gift of recovery at the age of 23. Since 2008, Blake has dedicated his life and career to the field of addiction. He has experience in all aspects of addiction treatment including direct care, admissions, marketing, and administration.
Blake feels that the greatest reward of working in the recovery field is being part of the transformation that a person goes through from the time they arrive and begin treatment, through the hard work and the Miracle of recovery, and ultimately the change into a confident and capable person ready to carry the message of recovery.
"My career has focused on serving others. I have accepted ownership of my responsibilities as that is the key to working at the highest level of professionalism. I have worked to be positive and offer solution-based suggestions in my work and personal life."