Who do the Heroes Turn to? Help for First Responders at Scottsdale Treatment Center
First responders are under more stress than ever as the requirements of their job become more complex in the midst of a pandemic. These community heroes are trained to run into danger while others seek shelter and safety. Paramedics, firefighters, EMTs, and police officers often arrive as tragedy is unfolding without knowing what to expect. We look to first responders for leadership and safety in some of the most challenging times yet we often fail to consider the mental health challenges and trauma these brave people face every day.
Sometimes it becomes too much. The stress of facing human tragedy and trauma can lead to depression, alcohol and drug use, and suicidal thoughts. Who do the heroes turn to for help? An outpatient setting like Desert Cove Recovery, Scottsdale treatment center, provides holistic, individualized care tailored to meet the needs of first responders.
Mental Health Conditions and Addiction are Common Among First Responders
Mental health conditions, including depression and post-traumatic stress disorder (PTSD), are higher among first responders than the general public. As many as 1 in 3 first responders develop mental health conditions while the prevalence among the general public is 1 in 5. [1]
The Ruderman White Paper on Mental Health and Suicide of First Responders reports that it is more likely that first responders will die from suicide than in the line of duty. [2] Prolonged exposure to traumatic stress can lead to increased depression, PTSD, and substance abuse. Approximately 50% of firefighters report binge drinking in the past thirty days.[3]
These rates, coupled with the stigma of help-seeking put first responders at high risk of the negative consequences of untreated mental illness and substance abuse.
Barriers to Seeking Help at Scottsdale Treatment Center for First Responders
First responders are perceived as brave, strong, and resilient. While this is often true, it is easy to forget that these warriors are also human. They face endless days of trauma and tragedy often with very few breaks. The current COVID-19 crisis is adding additional stress to first responders due to increased calls and worries about infecting themselves and their families.
There are several barriers to seeking help for mental health and substance abuse conditions. While most first responders believe that mental health is as important as physical health, almost half think that there would be repercussions for seeking help. According to a recent University of Phoenix study[4], these repercussions include receiving different treatment from coworkers (53%) and supervisors (52%) and being perceived as weak by colleagues/peers (46%).
Additional barriers include:
Not feeling comfortable speaking to another person about their problems (20%)
Not wanting people to perceive them as being weak (19%)
Feeling judged by colleagues in their profession (19%)
Feeling like it would affect their career/chance for a promotion (17%)
It is never easy for first responders to admit to themselves, their peers, or their families that they are struggling with mental health or substance abuse conditions.
Talking About Mental Health is Important
Repeated exposure to trauma increases susceptibility to mental health conditions and substance abuse. First responders have no control over the types of stress that they are exposed to on a daily basis but they do have control over how they respond to repeated exposure to trauma. What are some strategies for coping with this stress and developing resiliency?
Talk with your coworkers about the stresses that you face together.
Normalize talking about mental health in your workplace.
Share mental health resources and strategies with your colleagues.
Step away from work. When you are off work, get outdoors, exercise, and get plenty of sleep.
Limit social media and news sources.
Practice mindfulness. Learning to be in the present moment increases your sense of well-being.
It is more important now than ever for first responders to support each other in mental wellness and recovery when needed.
Continued after video:
When to Seek Help at Scottsdale Treatment Center
It is hard to know when to seek help. First responders often believe that they should be able to cope with the stress of their jobs on their own. Sometimes, it is easy to miss the subtle signs that the stress is getting to be too much. Some of these signs[5] include:
Feeling more irritable or angry;
Trouble sleeping and/or nightmares;
Lacking motivation especially in your time off work;
Feeling sad or hopeless;
Isolating yourself from family and peers; or
Turning to alcohol, drugs, or other unhealthy behaviors for coping.
If you notice these changes, it is time to seek help. Most first responders don't believe they have the time to take off of work and away from their families to seek residential treatment. Outpatient treatment programs often allow individuals to receive comprehensive, holistic treatment that is more integrated with the needs of daily life.
Desert Cove Recovery offers client-centered treatment in a safe, nurturing, and educational environment. Contact us today for help.
SOURCES:
[1] https://www.samhsa.gov/sites/default/files/dtac/supplementalresearchbulletin-firstresponders-may2018.pdf
[2] https://rudermanfoundation.org/white_papers/police-officers-and-firefighters-are-more-likely-to-die-by-suicide-than-in-line-of-duty/
[3] https://www.samhsa.gov/sites/default/files/dtac/supplementalresearchbulletin-firstresponders-may2018.pdf
[4] https://www.ems1.com/mental-health/articles/study-reveals-roadblocks-to-mental-health-counseling-in-first-responders-qrZWWNyka49PSBjN/
[5] https://www.cdc.gov/coronavirus/2019-ncov/hcp/mental-health-healthcare.html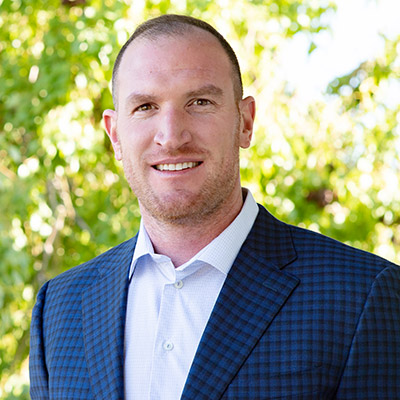 Blake Nichols is the Director of Operations at Desert Cove Recovery. Blake battled his own addiction to drugs and alcohol and was given the gift of recovery at the age of 23. Since 2008, Blake has dedicated his life and career to the field of addiction. He has experience in all aspects of addiction treatment including direct care, admissions, marketing, and administration.
Blake feels that the greatest reward of working in the recovery field is being part of the transformation that a person goes through from the time they arrive and begin treatment, through the hard work and the Miracle of recovery, and ultimately the change into a confident and capable person ready to carry the message of recovery.
"My career has focused on serving others. I have accepted ownership of my responsibilities as that is the key to working at the highest level of professionalism. I have worked to be positive and offer solution-based suggestions in my work and personal life."