Substance abuse and addiction are serious problems that affect millions of American adults every year. It can be difficult to know the correct plan of action to take when seeking treatment. Everyone is different and handles the process of recovery in a slightly different manner, leaving some confused and overwhelmed. This following information discusses the benefits that come with holistic addiction treatment and the reasons why this manner of addiction treatment is so successful.
What Does the Term Holistic Truly Mean?
Many people do not fully understand the meaning of the word holistic. Therefore, it's important to define the proper meaning of this type of treatment before we go any further in this discussion. Holistic refers to the concept that various systems of the body are viewed as whole entities rather than separate and unrelated body systems. In the practice of holism, all parts of the body work together as one in order to support the overall health and well-being of the individual. Therefore, when treating a serious condition such as addiction, a holistic approach involves treating all parts of the individual rather than simply addressing bothersome symptoms.
(Continued after image…)
Six Key Benefits of Holistic Addiction Treatment
1. Treating of Mind, Body, and Spirit
A holistic approach to healing centers around the concept that the mind, body, and spirit of an individual must all be healthy in order for that person to have the most successful life that they can possibly experience. Rather than just treating the physical effects of addiction, this method combines every distinct part of an individual and ensures the health of mind, body, and spirit.
2. Effective Traditional Therapies Remain the Foundation of Care
There are many traditional methods that have been used to treat addiction for decades. These tried and true methods still form the basis of a holistic approach to substance abuse. These methods are simply expanded upon to incorporate treatment of all components of the person seeking help.
3. Caring and Compassionate Environment
Treatment professionals who believe in a holistic approach to care generally provide a safe, secure, and compassionate environment that encourages openness and healing. These individuals are trained and experienced in dealing with the difficulties brought about by addiction. They provide these therapeutic interventions in a way that conveys compassion and empathy for the struggles each individual faces.
4. High Rates of Long-Term Success
Holistic methods of treating substance abuse tend to have better long-term outcomes. A greater percentage of individuals experience a complete holistic recovery. In addition, fewer people treated by this approach fall back into their old patterns of substance abuse and addiction.
5. Greater Selection of Diverse Treatment Options
Holistic treatment facilities utilize a wide array of treatment options. While these comforting amenities may be seen as non-essential components to some, a holistic approach recognizes the importance of treating all body systems equally. Therefore, holistic programs often provide nutritional support, massage, fitness programs, meditation, outdoor recreational programs, and so much more.
6. Quality After Care Programs and Follow Up
Holistic treatment programs for drug addiction also recognize that the individual's treatment doesn't end the second he leaves the facility. Successful rehabilitation requires a great deal of skilled follow-up and aftercare therapies. These aftercare programs act as an additional means of support to keep each individual from experiencing a devastating relapse.
Why is Holistic Addiction Treatment So Successful?
We are all complex individuals and the reasons we make specific decisions, good or bad, are very complex as well. Holistic methods of addiction treatment are successful because they look at a person as a whole and make it a point to treat all parts of an individual successfully. Holistic approaches recognize that a person suffering from addiction is so much more than just his substance abuse problem.
Finding the Right Rehab with a Holistic Approach to Substance Abuse Treatment
Desert Cove Recovery in Arizona is a top drug and alcohol rehab that offers a holistic approach to substance abuse treatment. Our outpatient programming for addiction will look different from person to person because we customize our programs and therapies for each individual.
Addiction impacts so much of our mind and spirit. Therefore, it's imperative to treat the underlying issues that led to addiction in the first place. Detox alone will help rid the body of substances, but that alone is not enough. Drugs and alcohol change the ways your brain works. Therefore, it's crucial to heal the brain and essentially "rewire" to a point of recovery. A holistic approach to substance abuse treatment looks at and treats a person's body, mind and spirit. For lasting recovery, choose a holistic rehab center, such as Desert Cove Recovery.
The Importance of Seeking Quality Treatment Promptly
Overcoming addiction and substance abuse is a difficult process. It should come as no surprise that the majority of those experiencing these issues require additional professional support to overcome it and bring about positive change in their lives. Seeking help to overcome these problems and regain a peaceful life is a sign of courage and strength, not one of weakness.
Desert Cove Recovery is a top-quality behavioral treatment center that believes in taking a holistic approach to managing and treating serious issues such as addiction. Located in the heart of Scottsdale, Arizona, Desert Cove Recovery uses the latest in cutting-edge technologies to tailor a treatment program to fit the needs of each individual.
No matter how serious your issues may seem, you don't have to face them alone. You can recover from your addiction and experience a peaceful life by seeking proper treatment at a quality facility. Contact Desert Cove Recovery today to find out how we can help you get started on the road to recovery.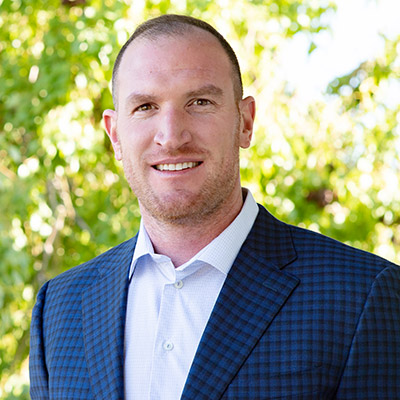 Blake Nichols is the Director of Operations at Desert Cove Recovery. Blake battled his own addiction to drugs and alcohol and was given the gift of recovery at the age of 23. Since 2008, Blake has dedicated his life and career to the field of addiction. He has experience in all aspects of addiction treatment including direct care, admissions, marketing, and administration.
Blake feels that the greatest reward of working in the recovery field is being part of the transformation that a person goes through from the time they arrive and begin treatment, through the hard work and the Miracle of recovery, and ultimately the change into a confident and capable person ready to carry the message of recovery.
"My career has focused on serving others. I have accepted ownership of my responsibilities as that is the key to working at the highest level of professionalism. I have worked to be positive and offer solution-based suggestions in my work and personal life."